Medi-Weightloss® Promotions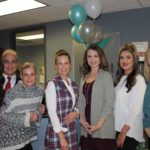 Join Medi-Weightloss® and receive $100 off
Spring for success with Medi-Weightloss®, The One That Works®!

Let our medical nutrition team help you lose up to 20 lbs the first month! Clinically proven and evidence based. Individualized medical supervision. Weekly support and counseling.

Join in March and receive $100 off your Initial Visit.

Your Initial Visit includes:

Body composition analysis
Comprehensive medical and weight history
Physical exam and vitals
EKG, urine analysis and lab work
Prescription appetite suppressant evaluation
Medi-Bolic Booster and B6/B1 vitamin injection
Individualized weight plan
Access to Signature Patient Website
Access to money-saving loyalty plans and bundles

Plus, receive the Super Starter Kit:

Insulated lunch bag
Blender bottle
Food and activity journal
Ketone sticks
30 day supply of important vitamins including Vita Super, Fat Burner, Calcium 4 Blend, Omega Three and Inner Balance

Learn more about the Medi-Weightloss program and see how Kansas City area patients have lost over 43,000 lbs!

Offer valid 3/1/18 – 3/31/18. Cannot be combined with other discounts.
Medi-Weightloss® Referral Promotion
Medi-Weightloss® patients! Refer a friend in March and receive 4 free Vitamin B6/B1 injections. Plus, you and your friend each receive the standard $25 referral credit. In addition to these great savings, you and your friend have invaluable support throughout your weightloss journey. Research shows that those who go through a weightloss program with a friend or family member lose more weight than those who attempt weight loss on their own.

Offer valid 3/1/18 – 3/31/18. Cannot be combined with other discounts. Call for full details.