Medi-Weightloss® Promotions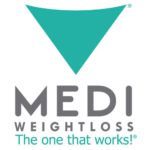 More than a diet. Join Medi-Weightloss® and get 20% off.
A sensible weight-loss program that will change your relationship with food. Medi-Weightloss, TheOneThatWorks®, gives you the tools and education to help you lose weight and keep it off.

Medi-Weightloss® is a three-phased program that includes Acute, Short-Term Maintenance, and Wellness. Our three phase approach is specifically designed to help you reach your weight loss goals and maintain your weight loss for a lifetime.

On average, Medi-Weightloss patients lose 7 pounds the first week, and then, 2 to 3 pounds each week thereafter for the first month.

Under the ownership of our on-site physician, James Mirabile MD, our medical team works closely with with you to help you lose weight and keep it off. Our medical professionals prescribe a program for you based on your lifestyle and your medical history.

The Medi-Weightloss program is a low carbohydrate, low calorie nutrition program. Our traditional program offers you menu items and suggestions using real food purchased in the grocery store.

The combination of our exclusively formulated Signature Supplements, vitamin and mineral based injections and FDA approved prescription appetite suppressants (if prescribed) work together to enhance your metabolism, manage appetite and keep you feeling great during your weight loss process.

Since opening the Medi-Weightloss clinic in Overland Park in 2010, our patients have collectively lost over 40,000 pounds! Under the ownership and direction of our onsite physician, James Mirabile, M.D., our team consists of a Registered Nurse and Nutritionists. Your nutrition and exercise plan will be developed based on your individual needs including your lifestyle and medical history.

Offer valid 5/1/18 – 5/31/18. Discount applies to Initial Visit. Cannot be combined with other discounts. Call for full details.