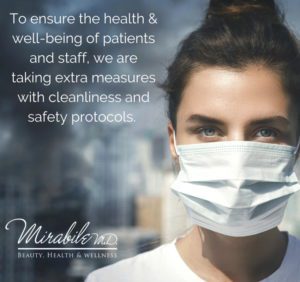 Mirabile M.D. Cares About Safety
To ensure your health, our team is taking extra safety measures and will follow a strict cleaning protocol throughout each day. Patient rooms, doorknobs, and all surfaces will be thoroughly cleaned prior to opening, at the end of each day and between patient visits. In addition, all staff members will wear protective masks while seeing patients.
To protect your well-being as well as that of other patients and our team, we will be implementing the following safety measures and guidelines upon re-opening.
If you are exhibiting any symptoms of COVID-19 and/or have a temperature of 100 degrees or greater, we ask that you reschedule your appointment.
If you have come in contact with anyone in the past 14 days who has tested positive for COVID-19, we ask that you reschedule your appointment.

Our patient schedules will be adjusted to minimize your time in the waiting room and also allow for adequate social distancing. The timing of your arrival is very important. Please arrive 10 minutes prior to your appointment. If you are late for your appointment we will reschedule you for another day.

Our providers will closely adhere to allotted appointment times and will not be able to extend the length of your visit.
Please arrive alone for your appointment.
Please enter through our main/front entrance doors. The side entrance to our suite will be exit only.
Upon your arrival, a team member will take your temperature and will ask you a few questions regarding your recent health and potential exposure to COVID-19.
We will be taking walk-ins for Vitamin B injections only. Our Medi-Weightloss team will have a designated area for these patients.
Please wash your hands thoroughly prior to arriving.

All patients must bring a mask to their appointment and masks will be worn at all times while in our office.

Our waiting room will be set up to accommodate social distancing and all magazines, books, etc. will be removed.
We understand that everyone is ready to return to regular routines and activities. If we all continue to work together we can help flatten the curve and get back to some sort of normalcy. In the meantime, we truly appreciate your cooperation and understanding