enlighten Laser Tattoo Removal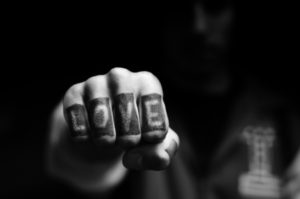 De-Inking With enlighten Laser
Fortunately, de-inking has progressed from a so-so, time-consuming process to a much faster, safe and effective method. The most advanced laser tattoo removal technology available on the market – enlighten® — is used to remove unwanted tattoos and permanent makeup such as eyebrow microblading and lip blushing.
enlighten Laser For Tattoo Removal
Did your tattoo seem attractive at one time, but not so attractive today? Or is your tattoo a permanent reminder of what was just a temporary feeling? If so, you are not alone! Change of heart or regret is the #1 reason why people seek laser tattoo removal.
As one of the most advanced tattoo removal lasers on the market, the enlighten III laser can remove a full spectrum of tattoo colors, including stubborn blues and purples, in fewer treatments than most other devices. We can remove unwanted tattoos on virtually any body part, including nipple tattoos from breast reconstructive surgery. 
Safe for all skin types including darker skin
Exceptional clearance and results
Removes a full spectrum of colors
Fewer treatments needed than other laser tattoo removal devices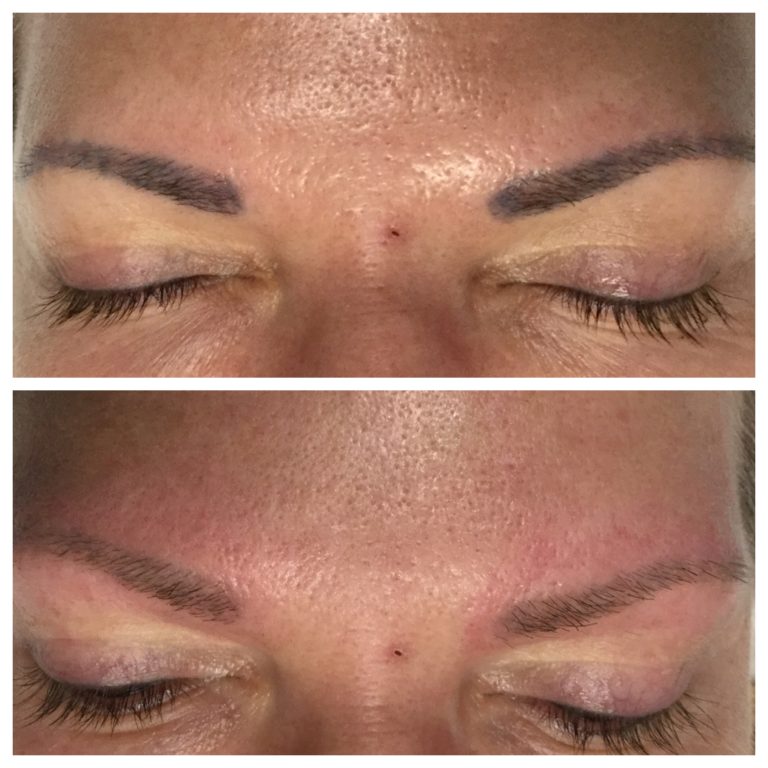 Mirabile M.D. MedCosmetic — after 1 enlighten Laser treatment for microblading correction. 
Microblading and Lip Blushing Correction
Microblading has become quite popular and can be an excellent way to achieve full, well-shaped eyebrows. Microblading, once known as semi-permanent makeup, is a process that uses tiny needles to etch ink into the skin under the eyebrow, giving the look of make-up. Because microblading doesn't penetrate as deep into the skin as traditional tattoo, the results will start to fade over a couple of years time.
Another form of 'semi-permanent makeup', lip blushing, is popular among patients looking for the look of lip liner and/or color without needing to apply cosmetics. Unfortunately, in some cases patients regret their lip color choice or are unhappy with the way the artist lined the border of their lips. 
The enlighten laser is very effective at correcting microblading and lip blushing. Like traditional tattoo removal, enlighten breaks up the microblading or lip color pigment allowing for full clearance of unwanted ink.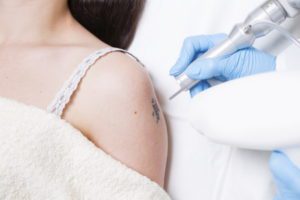 How Does enlighten Laser Tattoo Removal Work?
enlighten III features three wavelengths (1064, 532 and 670) and PICO + NANO pulse durations in one system making it one of the most effective tattoo removal devices available today.
With pico/nano technology, enlighten allows our providers to match pulse duration to particle size — giving patients a complete and fast clearance of their unwanted tattoo. Large particles respond best to longer pulse durations (nanosecond). As particles become smaller, shorter pulse durations (picosecond) are more effective.
Mirabile M.D. MedCosmetic patient – 12 enlighten laser treatments with Describe PFD Patch
Photos courtesy of Cutera. 8 enlighten laser treatments.
Photos courtesy of Cutera. 5 enlighten laser treatments. 
Key Factors to Consider When Removing a Tattoo
1. Experienced, qualified and certified medical professionals
Don't settle for second best. Choose a clinic that has only experienced medical professionals who are certified laser safety officers performing your treatment. This will ensure the highest quality of care with the best treatment outcomes.
2. Realistic treatment times
Choose a clinic that set's realistic treatment removal times. There are multiple factors that contribute to the amount of treatments required to achieve complete tattoo clearance.
Some factors include: Patient skin type, tattoo size, the ink type and color, where the tattoo is located on the body, existing scarring and general lifestyle habits. No two people are the same, and the same goes for tattoos. So when deciding on a clinic for your tattoo removal make sure to select a clinic with highly trained, experienced staff.
3. Treatment guarantee
Stay clear of clinics that do not have a treatment removal guarantee. Going to a clinic without a guarantee means that you might end up having many more treatments than is necessary and ultimately paying more than you should.
4. Effective pre and post treatment care
When choosing a clinic, make sure they provide you with the most effective tools to be able to achieve the best results. This is important because half of the removal process depends on the clinic and the other half is how well you take care of the treated area pre and post treatment. Therefore, effective pre and post treatment care is paramount to your overall results and skin health.
The FDA-cleared DeScribe PFD Patch allows rapid multiple laser passes in each treatment session. Adding the DeScribe PFD Patch to your enlighten laser treatments allows us to treat your unwanted tattoo more aggressively and at shorter visit intervals.
The DeScribe Patch can be integrated into your enlighten laser tattoo removal treatment by simply placing the Patch over the tattoo being removed.  The Patch is made up of a dual-layer silicone sheet infused with PFD (perfluorodecalin) – a completely inert, harmless liquid that allows the tattoo to be treated with the laser several times in a single treatment session.  The PFD reduces the scattering of light to help break up ink particles deep within the skin tissue; while the silicone layer of the Patch helps draw away heat from the top layer of skin.
Faster removal start to finish. Because of a quicker healing response, we are able to space your tattoo removal treatments closer together; ultimately reducing removal process timeline.
Fewer treatments may be needed. The Patch allows us to do multiple laser passes in one treatment and to reach ink particles deep within the skin; which may reduce the total number of treatments needed.
Reduction of discomfort. The silicone layer of the Patch helps draw heat away from the top layer of skin which helps to minimize discomfort.
In a recent clinical trial, patients reported not only less discomfort, but faster healing post-treatment with the DeScribe Patch.  In the same study, 100% of subjects given the option of completing treatment with or without the Patch chose the Patch.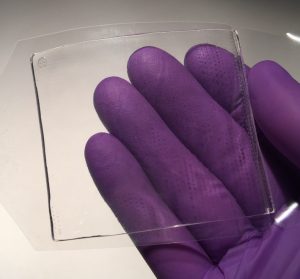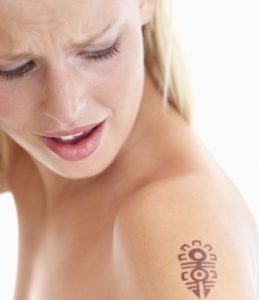 The number of enlighten laser tattoo removal treatments, duration of treatment and healing time varies depending on the tattoo's size, age, ink used and location on the body. During your free tattoo removal consultation, your provider will cover expectations for your specific tattoo. In general, patient's can expect up to 8 tattoo removal sessions; although in many cases fewer treatments are needed. Adding the DeScribe PFD Patch to your session will reduce the number of treatments needed as well as the healing time; which allows us to space treatments closer together.
After each laser session, the body must then be allowed to respond and begin to absorb the ink through the lymphatic system. We recommend patients wait between 4-6 weeks between sessions to give the skin time to react to the treatment and heal. The variance, again, has to do with each patient's physical healing response. While you may see a difference right away, generally during these windows between treatments you'll see a gradual fading of the tattoo.
We Stand Behind Our Technology
On average, tattoos can be removed in 3 to 8 treatments. If you require more than 8 treatments, the remaining treatments will be provided to you HALF OFF. The initial 8 treatments must be received at our office on the same tattoo and must include the use of the PFD Patch. Additional treatments do require the addition/purchase of the Describe PFD Patch. It's a win-win situation for you and provides you financial peace of mind. Furthermore, we don't require our patients to pre-purchase treatments through packages or gimmicky memberships. Our patients are able to 'pay-as-you-go'.