HydraFacial®
The HydraFacial has become a popular treatment across the United States, has been featured extensively in the media and has earned rave reviews by many celebrities!
What is HydraFacial?
This treatment provides cleansing, exfoliation, extractions, and hydration, including Vortex-Fusion® of antioxidants, peptides, and hyaluronic acid. It's immediately effective, making it a popular treatment for special events such as weddings. We treat the face, neck, decollete and back. The HydraFacial skin care treatment is suitable for all skin types and targets specific skin concerns including sun damage, fine lines and wrinkles, dehydration, acne, congested pores and oily skin. The HydraFacial is also an excellent post laser or post chemical peel treatment.
Why HydraFacial?
Every day we are exposed to the elements – stress, pollution, toxins, and most importantly, sunlight. These are known as free radicals, and they are the root of skin damage and aging. Free radicals destroy the chemical makeup of our skin cells, preventing them from functioning properly, causing our skin to deteriorate. The most natural defense against free radical damage is antioxidants – they neutralize free radicals, restoring and protecting skin from damage. Antioxidants can be found in vitamins like A and E, or in plant extracts like white tea, rosemary, and horse chestnut seed. Antioxidants are vital in the pursuit for healthy skin. This is why the HydraFacial is so important – not only does it remove surface damage such as dead skin cells and impurities, but it also replenishes the skin with antioxidants through Vortex-Fusion®, the most advanced application of nutrients to the skin.
How does it work?
Each treatment uses a series of HydroPeel® tips. The unique spiral design creates a vortex affect to easily dislodge and remove impurities while simultaneously introducing hydrating skin solutions with potent antioxidants. The HydraFacial treatment includes a 5 step process:
Cleansing and exfoliation. Dead skin cells are removed to reveal healthy new skin.
Acid peel. This gentle peel helps loosen dirt and debris from pores without irritation.
Extractions. Painless, automated extractions use vortex suction to clean out pores.
Hydration. Antioxidants and hyaluronic acid are Vortex-Fused™ to nourish and protect.
Protection. Pharmaceutical grade products are applied to help maintain results and protect you skin.
Combine your HydraFacial MD with additional treatments for your specific needs:
DermaBuilder Boost: Additional booster to improve fine lines, wrinkles, skin firmness, skin tone and texture.
Britenol Boost: Brightening treatment that reduces the appearance of hyperpigmentation providing significant skin tone evenness.
LED Light Therapy: Gentle Light Emitting Diodes (LED) in a non-ablative, non-invasive proven treatment for sun damage, aging skin and acne. Depending on your specific skin condition, either a blue or red LED is used.
Lymphatic Treatment: Detoxifies and reduces puffiness and congestion of skin and sinuses. This is a great treatment for allergy sufferers.
Peel upgrade. Upgrade from the standard 7.5% acid peel to either 15% or 30% for additional exfoliation.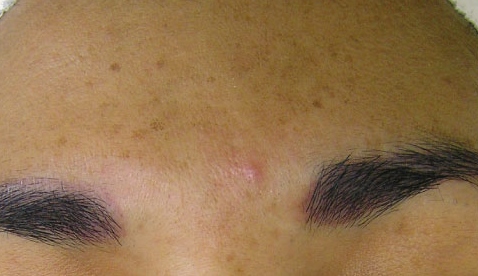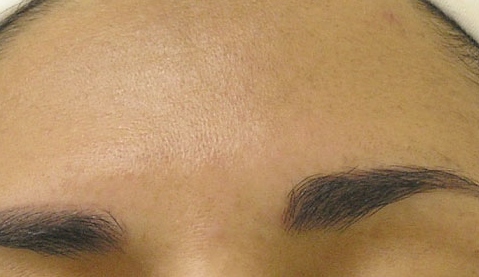 After 4 HydraFacial MD treatments. Photos courtesy of HydraFacial M.D. / Edge Systems.