Laser Hair Removal Specialists in Kansas City
The traditional methods of tweezing, shaving, waxing and chemical depilatories are temporary and sometimes painful. Increasingly, men and women of all ages are turning to Laser Hair Removal. At Mirabile M.D. MedCosmetic, we are experts in the field of laser hair removal. We have been safely and effectively treating patients in the Kansas City, Overland Park and surrounding area since 1999 and offer some of the most advanced laser hair removal systems available.
We offer the Lumenis LightSheer® Infinity™ and Lumenis LightSheer® Duet™ laser hair removal systems. Your skin type will determine which laser is better for your specific needs. The Lumenis LightSheer Infinity allows us to safely treatment ethnic and dark skin. We are proud to be among the first and only in the country to offer this advanced laser hair removal system. The Lumenis systems provide highly effective, rapid and safe treatment. The unique pain reduction mechanism ensures a more comfortable treatment compared to other laser hair removal technology. In addition, we are able to treat larger areas much quicker than most other systems, greatly reducing your treatment time.
In most cases, 3-8 treatments are generally required in achieving 85-90% clearance of the hair. With any laser hair removal system, patients will sometimes require maintenance treatment's to maintain results.
Mirabile M.D. Maintenance Program: After 8 treatments with MedCosmetic, each additional treatment (on the same body area) is half off!  
Sun avoidance as well as a daily application of sunscreen is crucial when going through a series of laser hair removal treatments. If you are planning on undergoing laser hair removal, you should limit tweezing, waxing, and electrolysis for six weeks before treatment.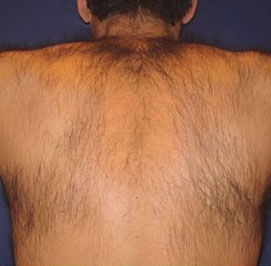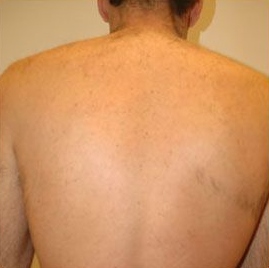 After laser hair removal. Photos courtesy of Lumenis.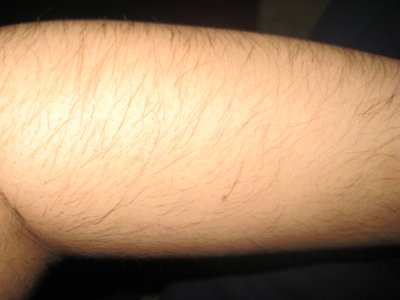 After laser hair removal. Photos courtesy of Lumenis.