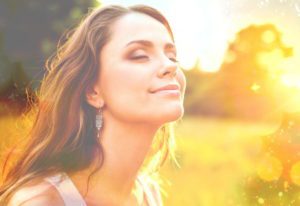 PICO Genesis offers one of the most advanced laser treatments for pigmentation, including sun damage and melasma, as well as overall skin revitalization. With no downtime!
What Does Pico Genesis Treat?
Safe for all skin types, the PICO Genesis, from Cutera, reduces pigmentation from sun damage, age spots and stubborn melasma. PICO Genesis provides brighter, more uniform skin color, increased skin elasticity and tone and overall revitalization.
How Does Pico Genesis Work?
Everyone's skin contains a substance called melanin. It's what gives our skin its color. When melanin occurs in high concentrations, it can result in brown spots and uneven skin tone. Another form of hyperpigmentation is melasma. Melasma typically occurs as a result of hormonal changes, such as pregnancy. Melasma can be worsened by light laser or some heat laser treatments, which is why lasers are traditionally risky for a person dealing with melasma. The PICO Genesis now offers those with melasma and other pigment issues a safe, effective option.
PICO Genesis uses higher peak power with a strong, non-thermal, photomechanical effect to shatter the pigment without causing thermal damage to the surrounding tissue. The Pico Genesis offers two highly effective laser wavelengths that treat problematic skin conditions without disrupting the dermis or skin surface.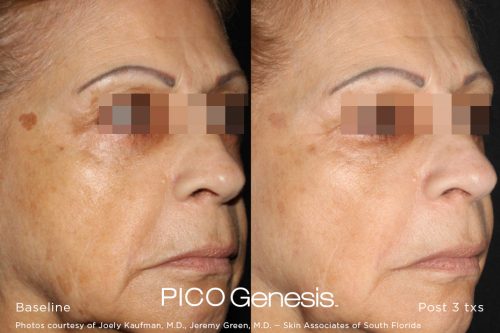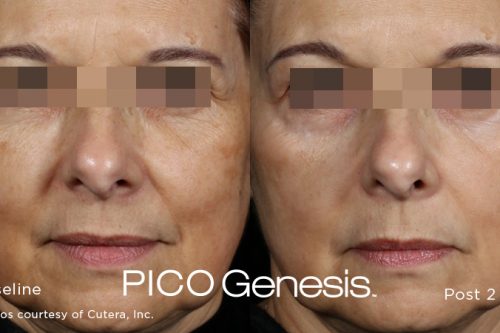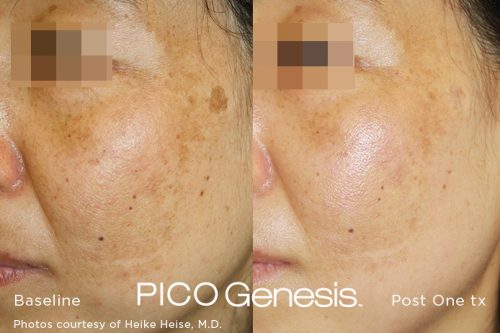 The length of your PICO Genesis treatment will vary depending on your needs. During treatment, you will feel mild heat pulses as the laser delivers energy below the skin surface. There is no downtime with PICO Genesis and you can resume normal activities following treatment.
A series of 3-4 PICO Genesis treatments are recommended to receive optimal outcome, and ongoing maintenance treatments are encouraged to sustain results over time. Our knowledgeable skin care experts will advise you on a treatment plan that best suits your goals.