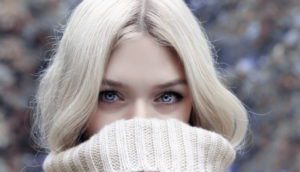 Secret® RF is a RF (Radio Frequency) laser micro-channeling treatment that improves signs of aging, revitalizes the skin and corrects many skin conditions. Secret RF is safe, effective and good for all skin types.
What Does Secret RF Treat?
Secret RF is good for all skin types and improves the signs of aging skin and overall skin revitalization while correcting many common conditions including:
• Fine lines and wrinkles
• Scars
• Stretch marks
• Hyperpigmentation
Secret RF, from Cutera®, uses microneedles to deliver fractional Radio Frequency (RF) energy into varying levels of the skin including the deeper layers where treatment is most beneficial. Unlike other devices which only deposit energy in surface of the skin, Secret RF delivers energy below the surface where it's needed most to help revitalize and regenerate the tissue. This unique delivery of energy allows us to achieve optimal results without disrupting the skin's surface.
Secret RF with PRP! Improve your Secret RF results further with PRP (Platelet Rich Plasma). PRP involves the use of a patient's own blood plasma, enriched through a special process to increase the concentration of platelets. These platelets contain bioactive proteins and growth factors that serve to accelerate tissue repair and regeneration while also activating your own anti-aging stem cells. This concentrated serum is applied to the skin in combination with the Secret RF treatment to enhance results and accelerate healing.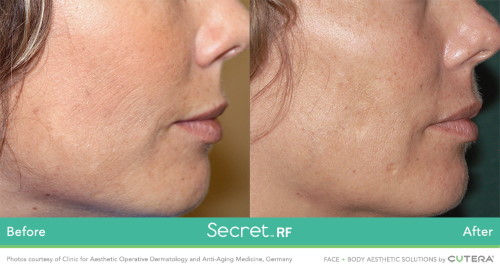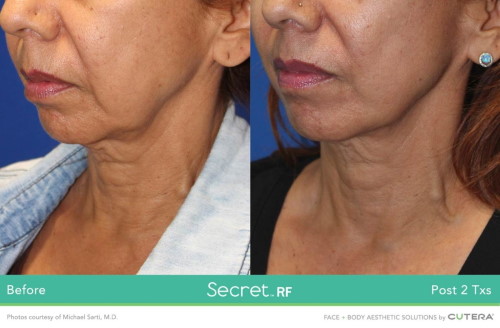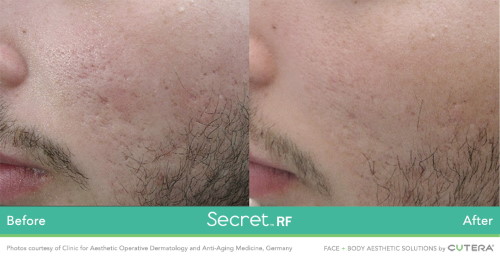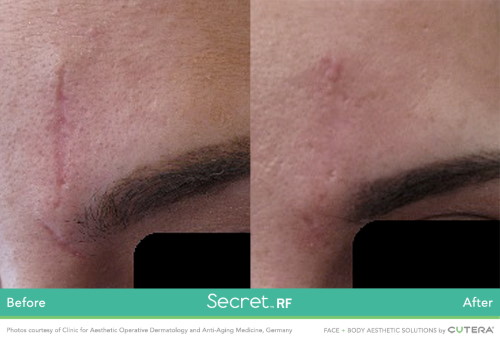 A Secret RF take approximately 1 hour. During the treatment you will feel heat and pressure on the treatment area.
You will be asked to arrive early to allow time for numbing of the area. We use a topical numbing cream which provides for a comfortable treatment experience. Other pain-control options are available including Pro-Nox. Pro-Nox offers an alternative to over-the-counter pain medications. This patient-controlled inhaled analgesia system delivers 50% oxygen and 50% nitrous oxide mixture for the relief of pain and anxiety. 
Following treatment, skin may be slightly red, similar to a mild sunburn. Redness should subside within the first 24 hours following treatment.  While improvement is noticeable after 1 treatment, to achieve optimal effect, 3-4 treatments are typically recommended.