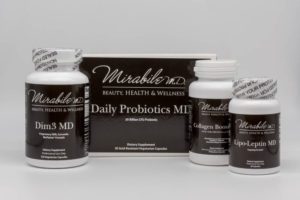 Mirabile M.D.'s Wide Array of Supplements
Explore our wide range of high quality nutritional supplements that include vitamins, minerals, fiber & other essential elements. We offer supplements for collagen generation, weight loss, anti aging, supplements for hair, skin & nails and more.
Vitamin & Supplement Products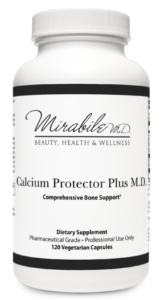 Supports bone metabolism
Supports bone strength
Provides micronutrients for utilization in bone production and structure
Delivers microcrystalline hydroxypatite concentrate along with calcium and magnesium in the form of highly absorbable Albion minerals, and Vitamin D in the form of cholecalciferol  for optimal support of bone strength and structure.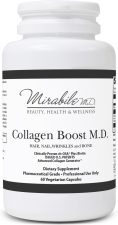 Reduces fine lines and wrinkles
Thickens and strengthens hair
Strengthens nails
Supports healthy bone mineral density
Supports bone flexibility
Promotes connective tissue formation for healthy joints
Collagen Boost M.D. features clinically tested ch-OSA® (choline-stabilized orthosilicic acid) complemented
with biotin. ch-OSA naturally helps nourish your body's beauty proteins by supporting and activating enzymes
used by collagen-generating cells to make collagen. Regular orthosilicic acid (OSA) has to be stabilized
to avoid polymerization, a process that decreases bioavailability. ch-OSA's patented choline-stabilization
technology prevents polymers from forming and ensures OSA's optimal absorption. By combining ch-OSA
with biotin, Collagen Boost M.D. offers an even greater level of beauty support.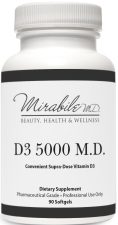 Supports bone strength and dental health
Supports modulation of immune function
Supports healthy cell differentiation
Supports neurologic and cognitive health
Supports musculoskeletal comfort
Supports cardiovascular health and healthy blood sugar
metabolism
Supports Vitamin D repletion in cases of dietary deficiency,
Limited sunlight exposure, or use of depleting therapies
D3 5000 M.D. is cholecalciferol provided in convenient soft gels.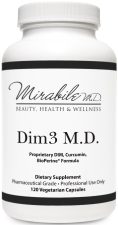 Supports healthy estrogen metabolism in females and males
Supports detoxification of xenoestrogens
Provides support for antioxidant mechanisms
Dim3 M.D. represents a three-dimensional approach to supporting healthy estrogen metabolism. Research
suggests that diindolylmethane (DIM), curcumin (from turmeric extract), and the patented black pepper
extract BioPerine® support balanced estrogen metabolism.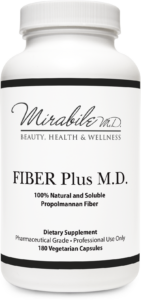 Supports satiety
Supports weight control
Supports glucose metabolism
Supports cholesterol metabolism
Supports healthy bowel movements
Serves as a prebiotic for intestinal bacteria 
Featuring Shimizu Propol A propolmannan — a highly pure, natural soluble fiber. Studied for its viscosity and stability through the digestive tract, this fiber supports positive effects on satiety, weight control, glucose and lipid metabolism, and bowel regularity.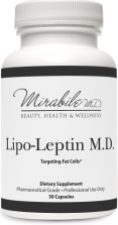 Affects adipogenesis and the genetic expression of adipogenic marker genes in multipotent cells
Affects synovial fluid and serum leptin levels
Supports weight loss
Lipo-Leptin M.D. represents an advanced, science-based strategy for positively affecting leptin levels.
Leptin is a fat-cell derived hormone that is elevated in some individuals. Healthy leptin activity helps balance
energy intake and expenditure by influencing appetite, food cravings, and metabolism.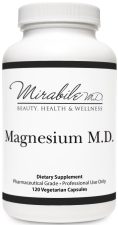 Supports magnesium nutritional adequacy
Supports the numerous metabolic activities of magnesium in the
body
Facilitates bowel movement
Helps prevent calcium crystallization in the kidneys
Magnesium plays a vital role in hundreds of metabolic activities. The mineral particularly supports muscle
and nervous system function. Magnesium M.D. supports healthy bowel movement by attracting water
when it is in the intestine.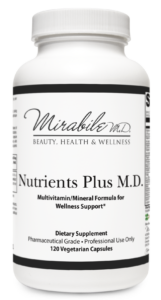 Supports antioxidant activity
Supports detoxification
Supports health in individuals with inadequate nutrient intake
Supports energy production and stress response 
A premium, multivitamin/mineral blend of high-quality vitamin and mineral forms selected for optimum utilization. Delivered in a vegetarian capsule and offering powerful antioxidant activity with vitamins C and E, selenium, and beta-carotene.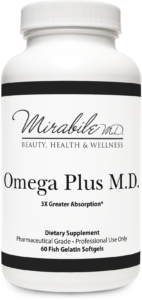 Supports cardiovascular health
Supports healthy mental function
Supports healthy glucose and insulin metabolism
Featuring a proprietary formula, MaxSimil monoglyceride fish oil, which offers three times greater EPA+DHA absorption rate compared to an equivalent dose of other leading fish oils. Omega Plus M.D. is absorption-ready and can be directly assimilated in the intestinal tract for maximum benefit.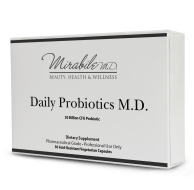 Helps maintain a healthy intestinal microecology
Supports the natural immune response
Supports bowel regularity
Supports lactose digestion
Daily Probiotics M.D. is a vegetarian, dairy- and gluten-free, four-strain probiotic totaling 100 billion CFU† per capsule. Each vegetarian capsule is sealed in nitrogen-purged aluminum blister packs to serve as protection from factors proven to compromise the stability of probiotics such as heat, moisture, and oxygen. Daily Probiotics M.D. provides four researched strains of beneficial bacteria, including the extensively studied HN019® strain of Bifidobacterium lactis.
These live microorganisms have proven health benefits and well-established safety, and have been tested for epithelial cell adhesion and/or resistance to low pH.* To further support resistance to low pH and the delivery of microorganisms to the small intestines, Magnesium M.D employs DRcaps™ gastro-resistant capsules. These specially designed, innovative capsules help slow exposure of actives to stomach acid and ensure more targeted release.
Provides antioxidant support
Supports healthy immune function
Supports healthy endocrine function
Alternative to green tea consumption
Thermoregulator M.D. is an ultra-pure, water-extracted green team formula that is rich in phytochemical compounds and supports antioxidant activity. Research has shown that green team supports natural detoxifying enzymes, normal gene signaling, and the health and function of intestinal flora.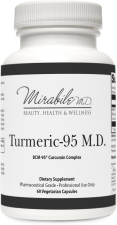 Provides antioxidant and cell-protective activity
Supports joint health and helps relieve minor pain associated
with physical activity
Supports the health of organs and systems by modulating the
production of cytokines and other signaling molecules
Supports the body's efforts to promote healthy cell growth and
inhibit unhealthy cell growth in certain cell lines
Supports brain/neuronal health and a healthy mood
Supports a healthy microbial environment
Tumeric-95 M.D. features BCM-95®—a 100% pure turmeric extract standardized to curcumin, demethoxycurcumin, bisdemethoxycurcumin, and essential oils of turmeric rhizome. This natural composition optimizes bioavailability and reflects true turmeric identity to deliver optimal health benefits. BCM-95 has been extensively studied and shows broad efficacy without the use of phospholipids, excipients, additives, carriers, nanotechnology, or bio-enhancers.
All Mirabile M.D. formulas Meet or Exceed cGMP Quality Standards. The statements above have not been evaluated by the food and drug administration. This product is not intended to diagnose, treat, cure or prevent any disease.
To purchase any of our best quality products, stop by or call our office in Overland Park. Or, buy online.