truSculpt® iD
Body Sculpting, Fat Reduction, and Correction
Fat reduction with truSculpt® iD offers the first and only 24 percent reduction in fat that's gone forever in just 15 minutes. Anywhere in the body.
truSculpt® iD is a non-surgical, safe, and effective sculpting treatment ideal for patients who are close to their ideal weight but have areas that don't respond to diet and exercise.
truSculpt ® iD is personalized to patient comfort, both during and after the procedure. Often, patients report that it is similar to having a hot stone massage, a pleasant experience throughout the 15-minute procedure.
The technology behind it works by heating deep layers of skin causing fat cells to die, resulting in a slimming look without a need for surgery, anesthetics or downtime.
Patients can see results after just one 15-minute session, unlike other body contouring treatments that can take 30-60 minutes and multiple visits. Additional sessions may be required to obtain desired results.
Our experienced professionals will advise you on the best truSculpt® iD protocol to suit your needs. Patients have come to trust us to offer only the best and attest non-surgical options for the body and face—those that are proven to be safe and effective while offering vale that's based on results.
So why freeze when you can heat comfortably? Click here to request a free assessment.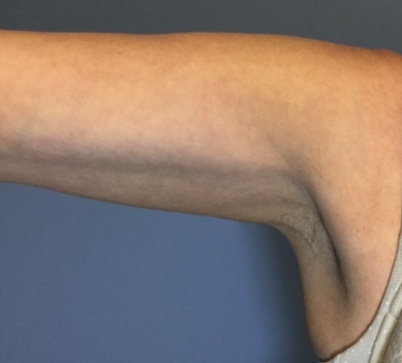 After 2 truSculpt treatments. Area of concern: arms. Actual Mirabile M.D. MedCosmetic patient.