Botox, Dysport and Daxxify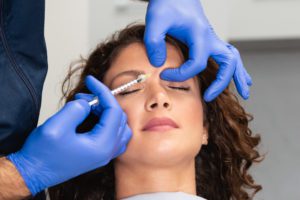 Botox®, Dysport® and Daxxify® are neuromodulators (also known as neurotoxins) that safely and effectively smooth facial wrinkles.
Neuromodulators are used to improve facial wrinkles, prevent future wrinkles from forming, lift brows, improve teeth grinding/clenching, smooth cobblestone/golf ball chin, reduce underarm sweat (hyperhidrosis), improve jawline definition, improve neck lines and neck crepiness, enhance lip border/fullness, and correct gummy smile.
Boto, Dysport and Daxxify Applications
Botox, Dysport and Daxxify for wrinkles. Visibly smooth and soften moderate to severe frown lines between brows (glabella), horizontal forehead lines (frontalis), lines above the lip area, and outer corner of eye lines (crow's feet). These lines result from muscle movement and the passage of time. After years of facial expressions, those lines start to linger longer and can become more pronounced. Starting neuromodulators at a younger age, before lines become prominent can help reduce deep lines from forming later in life.
Botox, Dysport and Daxxify for cobblestone/golf ball chin. Botox and Dysport can effectively improve Cobblestone Chin (also known as 'golf ball chin') by smoothing the lumpy skin on the chin.
Botox for hyperhidrosis. Botox is also highly effective in controlling excessive underarm sweating. For some patient's topical medicines do not work well enough. Excessive sweating is known as hyperhidrosis. Botox is injected into the underarm to temporarily stop the production of excessive sweat. When the sweat glands don't receive chemical signals, the severe sweating stops. Where does the sweat go? Your sweat doesn't go anywhere or get backed up because the sweat simply is not produced in the areas treated with Botox. The rest of your body is free to produce moisture normally.
Botox lip flip. While dermal filler is the standard go-to cosmetic injectable for lip enhancement or augmentation, Botox can also be used to achieve a more full lip. Botox is injected in the middle of the upper lip and the upper corners of the lip, causing the lip to flip outward for a fuller appearance. 
The Nefertiti Neck Lift. A newer neuromodulator treatment that helps to improve the definition of the jaw line and enhances the underlying muscles by providing a lifting in the neck and jaw area. This treatment smooths the neck and jawline providing a defined, youthful appearance.
MicroTox. MicroTox is an injection technique that delivers multiple microdroplets of neurotoxin between the dermis and superficial layer of facial muscles. This 'sprinkling' of small amounts of Botox, Daxxify or Dysport is used for a more subtle wrinkle corrector, to smooth skin texture, improve creases and crepiness of the neck, and tighten a sagging jawline.
Botox to masseters. Botox injection into the masseter muscle is ideal for patients who are clenching their jaw, grinding and wearing out their teeth and requiring dental work, who have frequent tension or migraine headaches, and who do not like the shape of their face because of square or thick jawline and wish to appear more feminine.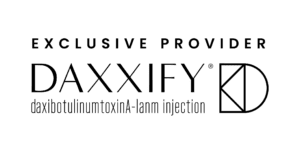 A neuromodulator treatment is typically less than 30 minutes and has no downtime, although with any cosmetic injectable treatment you may experience some bruising. You will have post care instructions and restrictions within the 24 hours following treatment.
The product is injected directly into the muscles by your experienced nurse injector and works by blocking nerve impulses. The muscles relax and do not contract, causing a smoother and more youthful appearance.
Small blebs (swelling under the skin) may appear at the injection site for up to a few hours following treatment. 
You can see improvement within days, with full results occurring in approximately 2 weeks. Botox and Dysport results typically 3-4 months. Daxxify results can last up to 6 or 9 months for some patients. Daxxify is unique in that it is the only neuromodulator that uses a novel peptide as a stabilizer and does not contain human or animal byproducts. 
Overall, all neuromodulators are very similar in how they work and how long they last. Our knowledgeable medical staff can advise you on which product, Botox, Dysport or Daxxify, might be best for you.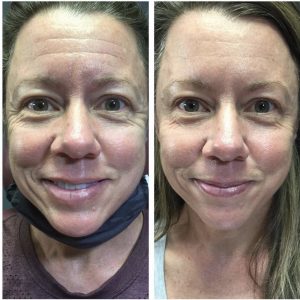 Botox treatment. Actual Mirabile M.D. MedCosmetic patient.
Botox treatment. Actual Mirabile M.D. MedCosmetic patient.
Botox treatment. Actual Mirabile M.D. MedCosmetic patient.
Botox treatment. Actual Mirabile M.D. MedCosmetic patient.
Daxxify treatment. Provided by manufacturer. 
Cosmetic Injectable Rewards Program
Allergan, the makers of Botox, and Galderma, the makers of Dysport, each offer patient rewards programs providing you discounts on future cosmetic injectable treatments. Mirabile M.D. MedCosmetic is proud to be at Allergan DIAMOND level status and a Galderma PREFERRED CHAMPION. Allergan, the makers of cosmetic injectable products including Botox® and Juvederm® and Galderma, the makers of Dysport®. Restylane®, and Sculptra®, awards status based on a provider's compliance with training, education and volume of cosmetic injectable treatments performed.
Allé, the loyalty program by Allergan Aesthetics™, allows you to earn points on your favorite Allergan Aesthetic treatments, such as Botox and Juvederm. Plus, now earn points on a variety of other in-office treatments, receive exclusive offers and more. Easily transfer your existing Brilliant Distinctions information to setup your Allē account OR create a new account. 
Asprire Galderma Rewards gives you points to redeem toward instant savings on Galderma treatments and products including Dysport, Restylane, Restylane Silk and Sculptra Aesthetic. It's free and easy to sign up at Aspire Rewards. Aspire offers additional points when you refer a friend to the program. Plus, if you receive a treatment of Dysport at least four times in two years, you'll earn bonus points.