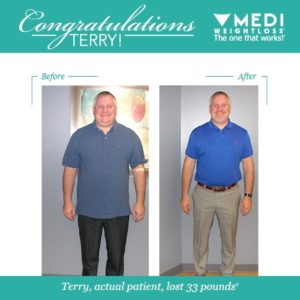 Join TheOneThatWorks® and get $100 off
If you're ready to say bye-bye to yo-yo dieting and farewell to faddy diets that don't work, it's time to check out Medi-Weightloss.
Medi-Weightloss is a three-phased program that includes Acute, Short-Term Maintenance, and Wellness. Our three phase approach is specifically designed to help you reach your weight loss goals and maintain your weight loss for a lifetime.
The program is a low carbohydrate, low calorie nutrition program that is scientifically designed to achieve an optimum state of ketosis. Achieving a ketogenic state is ideal of optimum fat loss while controlling hunger, maintaining muscle mass and increasing energy levels.
Our nutritionists will design a program based on your goals and lifestyle to ensure a proper balance of nutrients for your needs. We'll monitor your progress through weekly visits offering you support and guidance all along the way.
The combination of our exclusively formulated Signature Supplements, vitamin and mineral based injections and FDA approved prescription appetite suppressants (if prescribed) work together to enhance your metabolism, manage appetite and keep you feeling great during your weight loss process.
On average, Medi-Weightloss patients lose 7 pounds the first week and up to 20 pounds the first month!
If you're ready to try TheOneThatWorks, setup a free assessment. Join Medi-Weightloss in July and receive $100 off!
Request your free assessment here. Or, call 913.888.7546.
Offer valid 7/1/19 – 7/31/19. Cannot be combined with other discounts. Other restrictions may apply. Call for full details.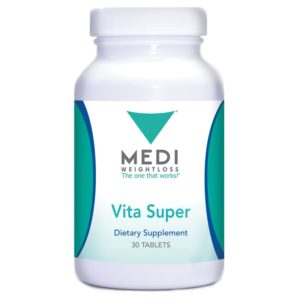 Product of the month! Medi-Weightloss® Vita Super.
Vita Super provides 100% of the recommended daily intake with key vitamins and minerals to support weight loss.
Vitamin B2 (Riboflavin): supports energy production and aids in the metabolism of fats, carbohydrates, and proteins
Vitamin B3 (Niacin): converts calories from protein, fat, and carbohydrates into energy
Vitamin B6: fights food cravings and stabilizes blood sugar levels
Folic Acid: facilitates many body processes including cell maintenance and repair
Vitamin B12: helps support higher energy levels
Vitamin B5 (Pantothenic acid): an antioxidant the body uses to break down carbohydrates, proteins, and fats for energy
Chromium: controls insulin and normalizes blood sugar levels
Biotin: aids in nail and hair health
Gluten-free and vegan/vegetarian friendly.
During the month of July, only $20 (regularly $25). Stop by or call 913.888.7546 to get yours!
Offers valid 7/1/19 – 7/31/19. Cannot be combined with other discounts. Call for full details.