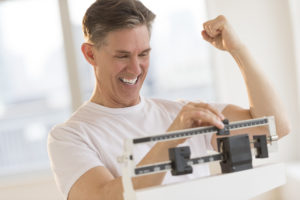 Medi-Weightloss is a three-phased program that includes Acute, Short-Term Maintenance, and Wellness. Our three-phase approach is specifically designed to help you reach your weight loss goals and maintain your weight loss for a lifetime.
The Medi-Weightloss program is a low carbohydrate, low calorie nutrition program. Patients are prescribed a nutrition program that incorporates lean protein, healthy fats and low-starch carbohydrates to achieve an optimum state of ketosis. Achieving a ketogenic state is ideal for optimum fat loss while also decreasing hunger, maintaining muscle mass and increasing energy levels.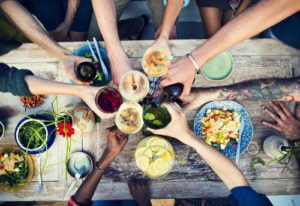 Support, Education, & Guidance
Under the ownership of our on-site physician, James Mirabile M.D., our medical team and nutritionists work closely with you to help you lose weight and keep it off. Our medical professionals prescribe a program for you based on your lifestyle and your medical history. Weekly visits with your counselor offer you the support, education and guidance you'll need for long-term results.
The combination of our exclusively formulated Signature Supplements,  advanced testing, vitamin and mineral based injections, and FDA approved prescription appetite suppressants (if prescribed) work together to enhance your metabolism, manage appetite and keep you feeling great during your weight loss process.
Average Weight Loss Amount
On average, Medi-Weightloss patients lose 7 pounds the first week, and then, 2 to 3 pounds each week thereafter for the first month.
Medi-Weightloss is a nationally proven weight loss program that has helped patients across the US lose 8 Million pounds! Since opening the Medi Weightloss clinic Overland Park in 2010, our patients have collectively lost 100,000 pounds!

ENERGIZE Your Weight Loss Efforts with Vitamin/ Mineral Injections!
Trying to lose weight? Feeling fatigued? Try our Vitamin/Mineral injections! We offer a full menu of injections to boost metabolism, improve immune function, increase energy, and more.
Medi-Weightloss offers a proven, 3-phase approach to weight loss. In the Acute phase, the patients' customized nutrition program is aimed at achieving weight loss. The Short-Term phase is the maintenance phase of the program in which patients gradually modify nutrition for their long-term eating habits. The final, Wellness phase offers monthly check-ins with a nutrition counselor for accountability and continued education and guidance
Begin your program with an Initial Consultation with our healthcare providers, followed by weekly appointments.
Complete medical exam, including medical history review, blood panel and EKG
Weekly consultations with medical nutritionists
Vitamin & mineral based injections
Overall health and body composition analysis
Nutrition plans and education
InterActive Exercise education
Access to the Signature Patient Website with recipes and activities
Signature Supplements and Products
Prescription for appetite suppressant (if recommended)
Access to the Medi-Weightloss mobile app allowing for easy food journaling, fitness tracking and more
As you approach your goal weight, your counselor will meet with you weekly to teach you how to live a balanced and healthy lifestyle.
Weekly consultations with medical professionals
Vitamin & mineral based injections
Continued overall health and body composition analysis
Learn to increase calories and maintain your goal weight
Continued access to the Signature Patient Website
Signature Supplements and Products
Congratulations, you have lost the weight! Now we will give you the tools, support, and encouragement you need to help you keep it off.
Monthly consultations with medical professionals
Vitamin & mineral based injections
Continued overall health and body composition analysis
Advanced testing and analysis of your metabolism
Strategies for a lifetime of health and wellness
Signature Supplements and Products
Medi-Weightloss Overland Park patient, Holly lost 33 pounds
Medi-Weightloss Overland Park patient, Kelly lost 100 pounds
Medi-Weightloss Overland Park patient, Melissa lost 93 pounds
Medi-Weightloss Overland Park patient, Terry lost 33 pounds
Medi-Weightloss Overland Park patient, Tom lost 70 pounds
Medi-Weightloss Overland Park patient, Richard lost 85 pounds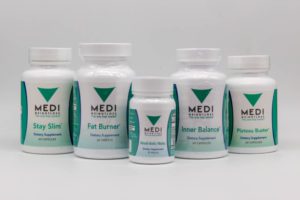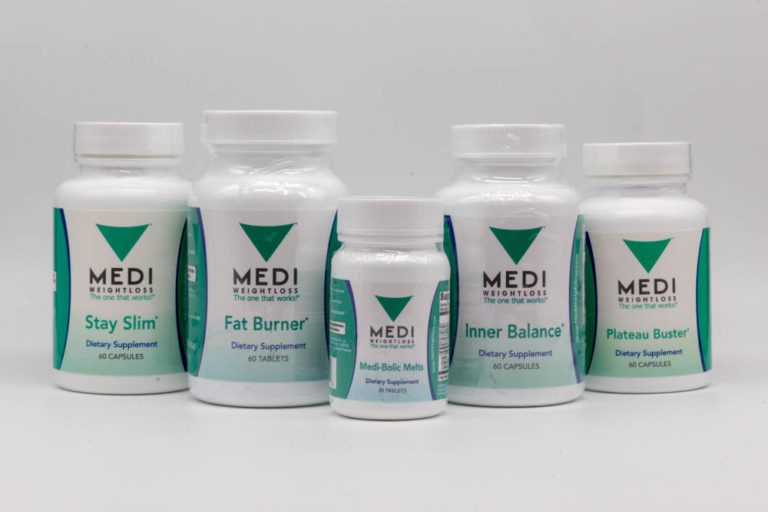 Medi-Weightloss Signature Supplements and Products contain only the highest-quality ingredients and are specifically designed with proprietary formulations that supply the nutrients you need to help you achieve and maintain your ideal weight. All food products have the optimum amount of protein with low amounts of calories and carbohydrates. Buy online!  
The Medi-Weightloss program was involved in a five-year clinical trial called the Prospective Metabolic Indicator Study (PROMIS). This trial was the first of its kind on Metabolic Syndrome (MetS) for a physician-supervised weight loss program and a system of its size anywhere in the world. MetS is a cluster of health conditions that increase your risk of type 2 diabetes, heart disease and certain types of cancers such as liver, bladder, and colorectal cancer. It has been dubbed the new silent killer by scientists. Obesity is a primary contributor to MetS. 
The main objective of the PROMIS study was to identify the proportion of patients with obesity that were affected by MetS and more importantly, to assess the impact of weight loss on the disease process itself. This information allowed researchers to determine the effectiveness of the Medi-Weightloss program and its role in preventing the onset of MetS as well as other health conditions associated with obesity. 
The study results support that the Medi-Weightloss program not only works, but substantially decreases morbidity associated with MetS. These findings and the PROMIS trial results were published in the peer-reviewed Journal of Public Health in 2019.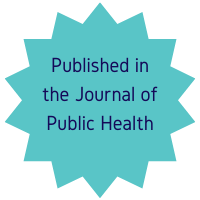 By becoming a Medi-Weightloss® Corporate Wellness partner, your employees will receive discounted visits to Medi-Weightloss at no cost to the employer!
We are proud to offer the Mirabile M.D. Loyalty Rewards Program. This program rewards you, our valued patient, for your continued support and loyalty.
Medi-Weightloss Referral Program
Refer a friend! If your friend or family member joins Medi-Weightloss you and your friend receive $25 off your next visit!
Referral dollars cannot be combined with other discounts, including Prepaid Value Plans. Call for details.
Medi-Weightloss Family Discount
Research shows that the support of family members is important to the success of any diet plan.
Family members (spouse or child in same household) who participate in the Medi-Weightloss program together each receive 20% off their weekly visits. Join now and get amazing offers!
Medi-Weightloss Free Assessment
We provide our services for men and women throughout Kansas City. For more information regarding weight loss in Kansas City and the Medi-Weightloss program, or would like to request an appointment, simply submit an online request.
Health Savings Accounts (HSA), also known as Flex Spending, may be used for your Medi-Weightloss visits. 
Our office proudly accepts CareCredit. CareCredit is a credit card for your health and beauty needs that lets you enjoy the benefits of living well today, with special healthcare financing options so you can pay monthly.
With special financing options for beauty, health, and wellness, the CareCredit healthcare credit card helps make procedures and treatments more manageable with promotional financing options. Subject to credit approval. Minimum monthly payments required.
To learn more about CareCredit and to apply for a card, visit the CareCredit Website