Our skin ages with us. While you can't rewind the clock, you can take steps to reduce time's unwanted effects on your skin. Anti-aging facial treatments are some of the best non-invasive ways to reduce the appearance of fine lines, wrinkles, and minor skin discolorations. As you age, you may choose to include facials as part of your skincare regimen.
Here are four of the most common anti-aging facial treatments at Mirabile M.D.
1. Dermaplaning
Dermaplaning is beneficial because it provides a noticeable and immediate boost to your skin's texture and tone. It's a manual exfoliation treatment that removes dead skin cells and fine facial hair on your skin's outer layer.
The cosmetic procedure takes only 30 minutes and is safe for most people. When performed by a certified dermatologist or licensed aesthetic provider, there are few side effects to worry about.
After a 30-minute dermaplane facial, you'll notice softer, smoother skin immediately. Your skincare products will even work more effectively.
Plus, recovery is a breeze. The most difficult part of dermaplaning is finding a trained provider to administer the treatment, but we offer excellent dermaplaning in Kansas City from licensed professionals. The treatment is so safe and effective that you can have it done every 3-4 weeks.
2. Microneedling
Microneedling is a collagen-stimulating treatment where multiple fine, short needles are inserted into the skin using a pen-shaped device. This procedure is more cost-effective and less invasive than a facelift.
But sticking yourself with needles isn't nearly as painful as it sounds. The tiny needles range in size from 0.5 to 2.5 millimeters in diameter, and they only enter the surface-level of your skin, so the punctures feel more like pinpricks. Your skin might appear a bit plump and pink for a few weeks.
The minimally invasive treatment targets multiple skin issues all over your body, from acne to stretch marks. Use microneedling to boost collagen production or treat enlarged pores, as well as acne scars or wrinkles. It's also great for overall skin rejuvenation.
Our SkinPen microneedling procedure corrects these skin conditions by stimulating your natural collagen production. You can see the improvements in your skin's vibrancy and health after each session.
While some results are immediate, patients can expect to see improvement in their skin over the course of several weeks and months. A 2008 study shows how skin produces up to 400% more collagen and elastin only six months after completing a round of four microneedling treatments.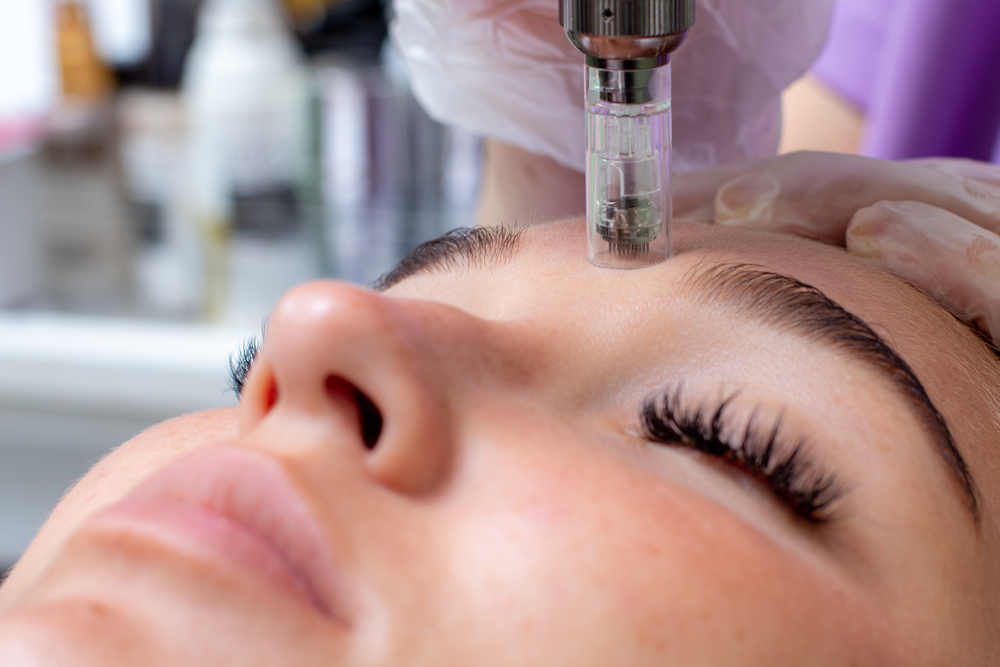 3. Co2 Lift
Go with a Co2 Lift to hydrate, lift, and rejuvenate your skin. This treatment is like a powerful face mask with optimal anti-aging effects.
The Co2 Lift is a popular anti-aging treatment that uses carbon dioxide to promote improved skin elasticity and collagen production, reducing fine lines and skin texture. The treatment is gentle enough for even the most sensitive areas of the skin, including under the eyes.
The result? Radiant skin, improved blood circulation, and overall brightness of your face and neck. There's no discomfort or downtime.
4. VI Peel
Chemical peels are popular anti-aging treatments that remove the outermost layer of your skin. A customized blend of skin correcting solutions are layered on your skin and rinsed off to smooth the surface. Depending on the type of peel, you might need multiple treatments for the results you desire.
The VI Peel is a chemical peel type that comes from the Vitality Institute line. You can choose to have this treatment performed on your hands, face, or neck. Use it to improve a wide range of skin conditions or boost your overall skin health and vibrancy. A VI Peel treats:
Fine lines
Wrinkles
Freckles
Age spots
Sun damage
Melasma
Blemishes
Acne and acne scars
Hyperpigmentation
Dull texture and color
Following this treatment, your skin will be more sensitive, and you can expect redness for a week or two. Post-care following a chemical peel treatment is important to your recovery and results. Your Mirabile M.D. provider will cover post-care instructions and provide at-home skincare products to be used the few days following your VI Peel treatment.
Which Of Our Anti-Aging Facial Treatments Are Right for You?
Because anti-aging procedures are cosmetic, the treatments are not covered by insurance. This is why it's best to know which anti-aging facial treatments are right for you.
Some treatments also require downtime to recover. Chemical peels, for example, are excellent anti-aging treatments because they exfoliate and produce smoother, younger-looking skin. But redness can appear for a few several days following treatment.
To choose the best anti-aging facial treatment for you, consider the following.
Skin Type
We all have varying skin types with different needs. Dry skin may require more moisturizing, while oily skin facials focus on using natural ingredients for extraction, cleansing, and exfoliation. Few procedures or products are right for everyone. For the best anti-aging results, ask your aesthetic provider which treatments are best for your skin. Check product labels and select facials ideal for your skin type. Go with recommendations formulated for your skin.
Your Top Skin Concern
Do you have fine lines or spots from sun damage? Rewinding aging skin takes time, so the treatment you use should target your biggest flaws. Estheticians can personalize a well-rounded medical or cosmetic treatment plan to encompass all your skin concerns, boosting the anti-aging effects in less time.
Frequency
You can never start caring for your skin too early. Men and women over the age of 30 can have anti-aging facials regularly, which is recommended for the best results as you get older.
But how frequently you get a facial may depend on the treatment. A Co2 Lift could be performed every week, while a VI peel could occur every six weeks.
Some treatments are also more affordable. If your budget doesn't allow regular visits, you may want to target the facial that will pack the biggest punch to get the most for your money.
Process
Some anti-aging facials consist of deep pore cleansing. Others remove the top surface of your skin. Understanding the process helps you know what to expect after your treatment.
Make sure you always investigate a treatment before showing up to your appointment. This should also be covered during your complimentary consultation prior to treatment. A qualified skincare professional can let you know what process is right for your skin type and concerns and should also explain how many treatments you may need, expected recovery, and post-care instructions.
The experts at Mirabile M.D. can help you determine which anti-aging treatment is best for you. Chemical peels and dermaplaning are among the best choices for most skin types. However, our aestheticians are experts in targeting your key skin concerns and designing a skincare plan that is right for you.
If you're looking for anti-aging solutions in Kansas City, now's the time. At Mirabile M.D., we offer some of the best anti-aging and other MedCosmetic treatments in KC. Give us a call at 913-888-7546 to schedule your facial treatment today.