When women hit their 40s, they may notice that their once smooth and taut skin has become uneven, wrinkled, and even dull-looking. This is because, during your 40s, your skin begins to produce less collagen, leading your body to experience more and more changes.
Some of these changes, like those to your skin, can be largely attributed to the hormonal imbalances caused by perimenopause—the years leading up to menopause when estrogen and progesterone levels in your body begin to decrease. The drop in these hormone levels directly impacts your skin's ability to produce collagen.
Although these traits are a natural sign of aging, they can be bothersome. As levels of certain hormones drop, you may begin to notice more changes to your skin or worsening signs of aging that slowly began when you were in your 30s. Due to decreased elasticity and increased dryness, your skin may become thinner and even start to sag.
Additionally, your skin may experience cumulative negative effects during your 40s from decades of stress, pollutants, and sun damage. These can appear on your skin as deeper, more defined fine lines and hyperpigmentation. You may also notice a loss of supportive bone and fat in the skin, creating deeper creases and folds.
Fortunately, while we can't change the fact that skin ages, we can implement healthy skincare habits to help how our skin looks and functions. Finding a skincare program that you enjoy and that fits into your lifestyle is essential for sticking to your routine over time, so it's important to find products with the right active ingredients for a regimen that will give you the long-term results you desire.
Let's take a look at some of the best skin treatments for your 40s that you should consider, including effective skincare products and Medcosmetic treatment options.
The 4 Best Cosmetic Treatments for Women in Their 40s
Nowadays, women have plenty of options if they're looking for the best anti-aging treatments for their 40s. From cosmetic injections to dermal fillers to body sculpting, there are personalized options for every skin type.
1. Cosmetic Injectables
There are many cosmetic injectable options to choose from, such as Botox and Dysport. These neuromodulators are injectables which provide improvement to facial wrinkles and folds and preventing future wrinkles. They can also be used to improve the look of your jawline, neck and lip lines and lip border.
As you age, the collagen in your skin breaks down more and more. Dermal fillers and Sculptra are great solutions to combat any loss of skin elasticity and volume; they also help retain your complexion's fresh and youthful appearance. Sculptra results are seen gradually, over a series of treatments; whereas dermal filler results are fully seen at two weeks or less.
Dermal fillers can be used in targeted areas to improve your skin's volume, facial asymmetry, lip definition, and undereye dark circles and bags. There are many different dermal filler options, including Juvéderm, Radiesse, RHA Collection, and Restylane. These dermal fillers can add a subtle lift to your complexion, treat moderate to severe wrinkles, and contour your skin's appearance for a smoother look.
2. Ultrasound Skin Tightening
An Ultherapy non-surgical facelift is a non-invasive treatment option for women in their 40s looking to lift the skin on their neck, chin, brow, and decolletage. This skincare treatment uses focused ultrasound technology directed toward your skin's foundational layer to gradually tone and strengthen your skin. This treatment also stimulates collagen production, giving your face, neck, and chest a tighter, more lifted look.
3. Laser and Radiofrequency Treatments
Both laser and radiofrequency (RF) treatments can help treat skin imperfections, like undereye bags, rosacea, sun damage, melasma, and spider veins on your face and body.
Morpheus8 is a microneedling RF treatment that can tighten your skin and stimulate collagen production, which is a major cause of age-related skin imperfections. It works by delivering radiofrequency treatment into varying layers of the skin to stimulate collagen and elastin production, and coagulate any fat. If you're looking to improve the appearance of fine lines, wrinkles, dark circles, and sagging in delicate areas like around your eyes, Morpheus8 is a great option.
Intense Pulsed Light (IPL) is another laser treatment option for the skin. IPL works by penetrating skin tissue with a broad spectrum of light, resulting in a thermal injury that the body works to correct and heal on its own. Ultimately, this process allows the targeted skin imperfection to be corrected. In addition to treating sun damage, freckles, and redness, IPL can also be used to treat vascular issues such as port-wine stains, spider veins, and leg telangiectasias.
4. Body Sculpting
One of the best skin treatments in your 40s that has been effective in the past for many women is body sculpting. More specifically, Evolve X is a non-surgical body sculpting option for women looking to reduce fat and tighten their skin. For women who have had children, Evolve X can help to improve overall skin remodeling.
At Mirabile M.D., we offer three different Evolve X programs for you to choose from: Tite, Tone, and Transform. All three types deliver radiofrequency energy to the subdermal layer of your skin, triggering the process of collagen remodeling. During a decade where collagen production in your body is much lower than before, Evolve X treatments can be very useful for achieving a more defined, sculpted appearance for your skin.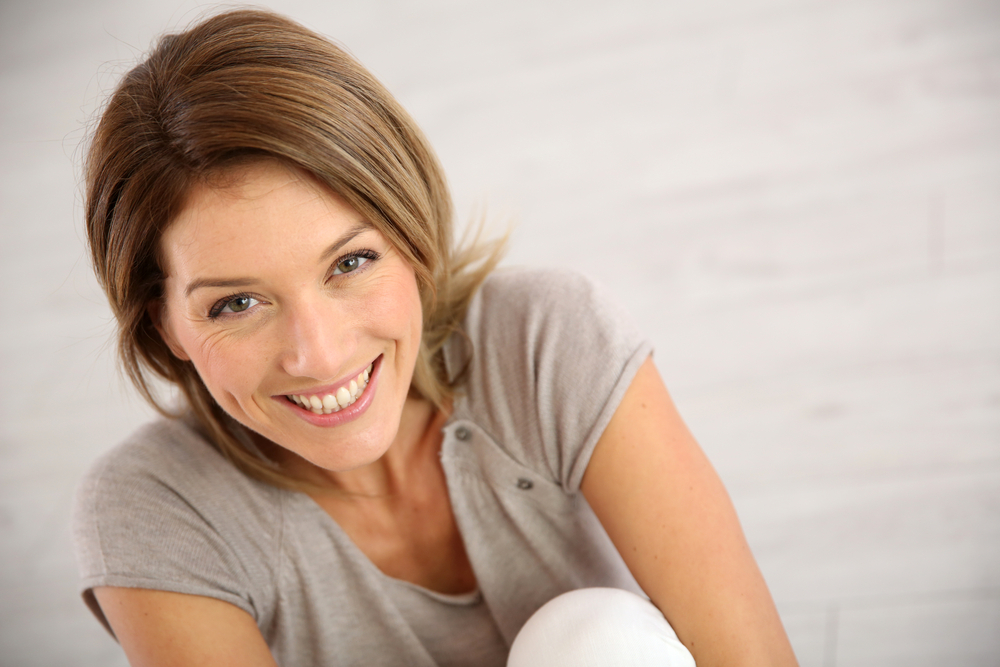 Your Morning Skin Routine After 40
Medcosmetic skin treatments alone are not the only care options to consider for your skin. In addition, it's best to have a solid skincare routine to start your day with. This routine may look a little different in your 40s as your start to implement more advanced facial products, like anti-aging cream and retinol if you haven't already.
An important aspect of your 40s skincare routine is using products that effectively moisturize your skin. During this decade, the moisture-trapping lipids in your skin begin to deteriorate, leading to dryer, duller, and flakier skin. To combat this, incorporating ingredients into your routine like antioxidants and hyaluronic acids can help to improve your skin's moisture levels.
Remember that all skin types are different; what works for one person may not be for someone else. That's why it's important to find personalized products for your skin and habitually use these products every day.
If you're a woman in your 40s, your morning skincare routine should include the following:
Light Cleanse: You may need to change up your face wash to something gentler, like a cleansing oil. Because your skin produces less collagen in your 40s, you'll want to use a cleanser that's a lot less harsh than the ones you may have used in the past. Preferably, the cleanser should be both hydrating and contain other beneficial ingredients like vitamin C, vitamin E, glycerin, and ceramides.
Anti-Aging Serum: Your morning serum should contain moisture-drawing ingredients, like antioxidants and hyaluronic acid. Look for serums with vitamin C, vitamin E, and ferulic acid. Vitamin C is a great moisturizing ingredient to apply in the morning before applying moisturizer and sunscreen to provide extra protection for your skin.
Moisturizer: It's best to find a moisturizer that contains antioxidants since these are great for protecting against further damage from infrared light, UV rays, and even pollution. Look for ingredients that help to boost and maintain your skin's moisture, like ceramides, niacinamide, hyaluronic acid, and glycerin.
SPF: Exposure to sunlight is one of the main reasons your skin develops visible signs of aging. Fortunately, it's never too late to prevent sun damage, and applying sunscreen to your complexion daily is the best way to do this. You'll want to apply a product with an SPF of 30 or higher to any exposed skin surfaces, including your forearms, hands, neck, decolletage, and face.
Your Evening Skincare Routine After 40
Ending your day with some time dedicated to your skincare routine is just as important as when you wake up in the morning. When putting together a nightly routine, here are some important steps to consider:
Removing Makeup: Skip the makeup wipes and opt for an oil-free makeup remover or cleansing balm instead. These products are softer on your skin and should easily remove your makeup without leaving your skin irritated and red.
Cleanse: As you did in the morning, cleanse with a gentle face wash containing active ingredients like antioxidants and ceramides.
Exfoliate: Using an exfoliator on your skin can help to remove dead skin cells and instead promote clearer pores and cell turnover, as well as reduce pigmentation. When looking for an exfoliating product, look for ingredients like lactic, glycolic, mandelic, or salicylic acid. The key to exfoliating is to not overdo it; instead, only exfoliate two or three times a week to avoid robbing your skin of moisture and essential fatty acids.
Anti-Aging Serum or Cream: Introducing a serum or cream specific to your skin type and concern is a great addition to your skin care routine. One popular product for women in their 40s is Rejuvenating Growth Factor Cream. The combination of human growth factors, peptides, antioxidants, and ascorbic acid offers a powerful anti-aging product. Good for dry, normal, or sensitive skin types, Rejuvenating Growth Factor Cream protects against environmental damage, reduces melanin synthesis by up to 80%, smooths vertical wrinkles after just seven days of use, stimulates collagen production by up to 76%, and improves overall appearance of skin complexion and firmness.
Tretinol: Tretinol (or retinol) is a derivative of vitamin A and works by fighting wrinkles and boosting your skin's collagen production. Retinol needs to be applied at night because it can cause your skin to be more sensitive to the sun.
Moisturizer: After your serum and retinoid have fully set, it's time to moisturize. As you get older, it's better to use a night cream rather than just lotion. Night cream typically features dermatologist-recommended ingredients so your skin can lock in and maintain moisture while you sleep.
Eye Cream: It's also important to apply an eye cream at the end of your nightly skincare routine. Look for products that have niacinamide and hyaluronic acid to plump fine lines, caffeine to reduce dark circles and puffiness, and retinol to boost the production of collagen.
What to Avoid in Your Skincare Routine After 40
Now that we know some of the best skin treatments in your 40s, we should also discuss what to avoid. One of the biggest mistakes many women make is using too many products. The overuse of skincare products can actually weaken your skin and cause more rapid aging since your skin cannot properly defend itself.
Instead, we recommend finding skincare products that aren't harsh on your skin and provide the anti-aging benefits you may be looking for. Using the right products consistently will help to avoid any facial irritation or additional skin damage.
Additionally, women in their 40s should avoid picking at any skin imperfections on their complexion. Unlike when you were younger, your skin cannot heal as well now because levels of elastin and collagen, which both help in wound healing, are much lower. Picking at your face may result in pockmarks, scarring, and congested pores.
Mirabile M.D. offers many Medcosmetic treatment options and guidance for some of the best skincare products to maintain a healthy and beautiful complexion in your 40s. Contact us today at 913-888-7546 to learn more information or schedule an appointment.